Eco Friendly Septic Tanks
Sewerage – Grey Water – Waste Water – Septic Tanks
The all new WormSmart Eco Friendly Septic Tanks feature a chemical free state-of-the-art Wastewater Biological Treatment System which uses nature with the aid of Worms to convert your Sewerage and Grey Water into a safe, nutrient rich odourless fertiliser which you can distribute to your plants, lawns, gardens, shrubs and trees via an easy-to-install irrigation system.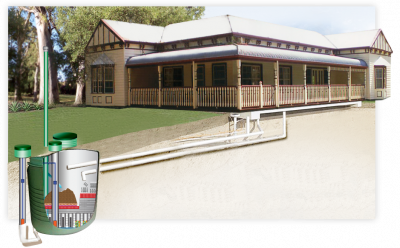 WormSmart are an all Australian company with over 20 years experience in Water Filtration and Water Treatment. We are dedicated to providing Eco Friendly and Environmentally Safe solutions for Australia's growing problem of Sewerage and Grey Water disposal. The Eco-Systems of some rivers and waterways have been all but destroyed by household Effluent and we believe the time has come to convert this effluent into an Environmentally Friendly product without the use of harsh chemicals, nasty smells or high power usage. In fact the WormSmart Eco Friendly Septic Tank uses up to 90% LESS energy than many of the Septic Tanks on the market today.
Of course every Waste Water System requires EPA approval and the WormSmart Biological Treatment System has formal approval from EPA Victoria with approvals pending from all other Australian states.
It's no secret that Worms are one of natures most effective forces in dealing with the conversion of waste to clean organic fertiliser. Worm Farms have long been the mainstay of many organic farms throughout the world for centuries. WormSmart Eco Friendly Septic Tanks have added Worms as part of our patented and highly advanced Sewerage and Wastewater Treatment Cycle. The results have been staggering. Not only are Worms a naturally renewable resource, they also eliminate the need for harsh chemicals to break down the solids from toilets and sinks.
What most people don't know is that the chemicals that need to be added to many other Septic Tanks, Wastewater, Grey Water and Sewerage Systems can in many cases do more damage to the environment than the untreated product itself.
WormSmart Eco Friendly Septic Tanks can be fitted by your local plumber and require only ONE service per year.
For more information, prices and orders please contact WormSmart on 1300 967 676.