Bathroom Renovations & Kitchen Renovations Melbourne
Bathroom Renovations and Kitchen Renovations are two of the most important decisions Melbourne homeowners will make about renovating their home, The Kitchen and the Bathroom usually make the biggest impression on the look and feel of a home's interior and when the time comes to sell they make a huge difference in the internal appeal of a home.
The major hurdle for many homeowners is the cost of Bathroom Renovations and Kitchen Renovations. No matter which way you look at it renovations are expensive and trying to do it "on the cheap" will invariably end in disaster and make you wish you left things the way they were.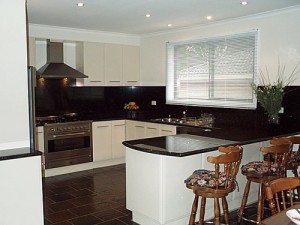 Executive Bathrooms & Kitchens have been renovating Melbourne kitchens and bathrooms for over 30 years. We know what it means to invest in costly Kitchen and Bathroom Renovations and we respond by giving our clients the absolute BEST VALUE FOR MONEY possible.
With our comprehensive in-house design service, expert tradesmen & cabinet makers, state-of-the-art factory and showroom, Executive Bathrooms & Kitchens can manage your renovation project from start to finish and give the result you want on time and on budget. No nasty surprises, no budget blowouts, no bad workmanship and no fuss and bother.
The cost of Bathroom Renovations (eg. Shower Screens) varies depending on the size of your bathroom, tile selection, vanities, cabinets, bath type, basins, taps, shower screens, spas, lights, heaters, fittings and fixtures. It all sounds a bit confusing at first but our experienced bathroom designers can help you design your bathroom according to your budget and taste. We always seem to exceed our clients expectations by our clever designs and our variety of bathroom fittings & fixtures.
The same philosophy applies with our Kitchen Renovations. The kitchen is the most popular room in most Melbourne homes and the importance of this room to the average Australian family cannot be underestimated. Kitchen Designs are as varied as the people who use them. There is no "one size fits all" mentality at Executive Bathrooms & Kitchens. Our Kitchen Designers listen to your requirements, make suggestions and come back to you with a range of options based again on your budget and your needs.
If you are reading this then it stands to reason that Kitchen and / or Bathroom Renovations are on your mind. Your next step would be to contact Executive Bathrooms and Kitchens Melbourne and arrange an obligation free consultation with one of our talented designers.
Our factory / showroom is located at Unit 9, 277 Middleborough Road, Box Hill South and we look forward to meeting you and your family.
Contact us on (03) 9890 6111 or (0414) 872 097.