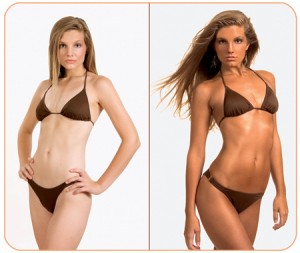 Spray Tanning
Toongabbie, Winston Hills, Parramatta, Baulkham Hills, Constitution Hill, Northmead, Seven Hills, Westmead, North Rocks, Blacktown, Girraween, Greystanes, Wentworthville, Prospect, Bella Vista

Spray Tanning salon provide a flawless spray tanning service to; Toongabbie, Winston Hills, Parramatta, Baulkham Hills, Constitution Hill, Northmead, Seven Hills, Westmead, North Rocks, Blacktown, Girraween, Greystanes, Wentworthville, Prospect, Bella Vista and surrounding suburbs.
Without doubt the safest, fastest and most precise way to achieve the perfect tan is with a spray tan. The perils of tanning in the sun or on a UV tanning bed are well documented and beyond any doubt.
Spray Tanning is an unregulated industry and as a result anyone can buy spray tan solutions and spray equipment, hang out a sign and profess to be a spray tanning salon or artist. This has given rise to the many complaints made by the public about the spray tan industry and unfortunately most of these complaints are valid. Complaints about getting an "orange peel" effect, severe staining to clothes and car upholstery, looking like a circus clown with multi-coloured skin and so on.
Spray Tanning is a skill and believe it or not there is much to learn before one even goes anywhere near spray tan equipment. To be a successful Spray Tanning Artist you have to learn and practice. Then you practice on people who really really love you. Then you sit for a test which puts you through all facets of the spray tan process.
We are also very popular with brides wanting the perfect tan for their wedding day. Now from a girl's point of view this will be the most important tan she will ever get and "close enough" simply won't cut it. It has to be PERFECT.
Our Spray Tanning Artists at are fully trained and accredited. They will consult with you and ensure you choose and apply the correct tan in the correct shade every single time. There is a broad spectrum of tanning colours and brands which are specifically selected to suit your individual skin type. For instance the exact same spray tan on applied to a person with oily skin and a person with dry skin will result in two very different colours.
For all enquiries and bookings contact Toni on (0432) 956 704



Spray Tanning
Toongabbie, Winston Hills, Parramatta, Baulkham Hills, Constitution Hill, Northmead, Seven Hills, Westmead, North Rocks, Blacktown, Girraween, Greystanes, Wentworthville, Prospect, Bella Vista