Bridal Bouquets & Wedding Flowers Sydney
Sydney's Wedding Flower Specialists
Flowers by Helen Brown Bridal Bouquets & Wedding Flowers Sydney make the process of choosing the floral arrangements for your upcoming wedding a pleasant and fun experience.
Servicing the entire Sydney area their experienced florists will patiently discuss your options for colours, flowers, arrangements and budget. With their vast experience in Bridal Bouquets & Wedding Flowers the Flowers by Helen Brown Florists can offer you as much guidance and advice as you need to ensure that your wedding flowers and arrangements are everything you ever imagined.
At Flowers by Helen Brown Bridal Bouquets & Wedding Flowers Sydney you will be able to select:

•    Your Wedding Bouquet
•    Bridesmaids and Maid of Honour bouquets
•    Groom, groomsmen and father of the bride lapel flowers
•    Mother of the bride corsage
•    Petals or flowers for your flower girl to sprinkle down aisle
•    Church decoration and pew flowers
•    Reception venue floral arrangements
•    Table Arrangements
•    Centrepieces
•    Flowers for hair or dress, for you and your bridesmaids
With the help of their expert florists you will be able to create a stunning wedding flower package including roses. Every wedding is different and every bride has her own ideas as to what flowers and colours she wants. Whilst your budget will always be an important factor, maximising what you get for your money is why using the services of a Bridal Bouquet and Wedding Flowers expert is so important.
All it takes is one phone call to arrange an obligation free consultation with an expert wedding florist.
The online gallery has many examples of Helen's floral wedding creations including; Bouquets, Accessories, Flowers for the Ceremony, Wedding Reception Arrangements.
Contact Flowers By Helen Brown on (02) 9874 1187 or (0410) 559 811.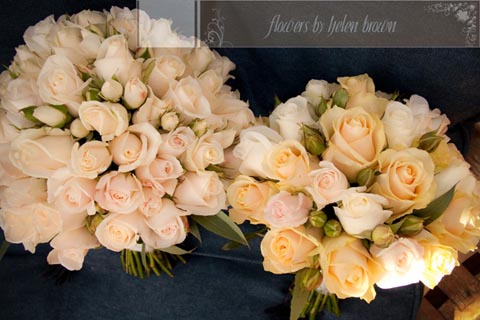 Bridal Bouquets & Wedding Flowers Sydney