Deep Sea Fishing Charters Adelaide
Half Day, Full Day & Overnight Fishing Charters Adelaide
(08) 8294 0900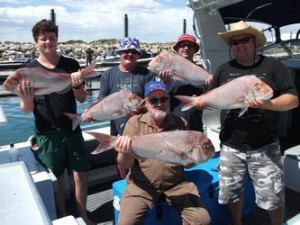 Go Get'Em Deep Sea Fishing Charters Adelaide is owned and operated by Tom Di Vittorio, one of South Australia's best known and most respected fishos.
With a lifetime of experience and the ideal fishing boat, a 7.2 metre Sailfish Catamaran with twin 175 horsepower Merc's onboard toilet and all creature comforts, Tom knows the waters off Adelaide like the back of his hand and best of all he knows the BEST fishing spots including around Adelaide, Tapleys Shoal, the Gulf St Vincent, Spencer Gulf, and Kangaroo Island.
Catches include; King George Whiting, Snapper, Snook, Squid and many more depending on the season.
Go Get'Em Deep Sea Fishing Charters Adelaide are fully licensed and operate 7 days a week. The boat is surveyed for up to six passengers and the crew is first aid and sea rescue qualified.
Launching from West Beach boat ramp Go Get'Em Deep Sea Fishing Charters Adelaide offer a range of Fishing Trips including Half Day, Full Day and Overnight. Prices start at $125 per person and children 7 and over are welcome.
Expert guidance (if required)
All fishing equipment (if required)
Bait & Sunscreen
What To Bring:
Hat & sunnies
Food & drinks (alcohol in moderation)
Camera and/or video
Whether you are an experienced fisho or a beginner Tom makes it his business to ensure that you enjoy yourself. His reputation for customer service is legendary and nothing is too much trouble. Safety is of course the highest priority followed closely by fun and adventure. The waters off Adelaide are teaming with a huge variety of sea life including dolphins and sharks. These make for some fantastic photography and always provide a thrill.
The smooth ride of the twin hull catamaran provides a comfortable journey and the powerful twin Mercs get the boat from one fishing spot to the next in quick time.
For bookings and all enquiries contact Go Get'Em Deep Sea Fishing Charters Adelaide on (08) 8294 0900 or after hours, Tom (0418) 893 419.