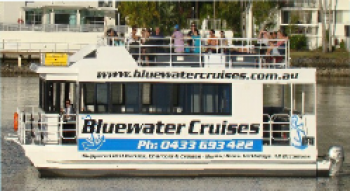 Party Cruise, Boat Charter, River Cruise, Canal Cruises, Lunch Cruises, Hens Party, Bucks Night, Sunset Cruises, Christmas Parties, Charter Boat Gold Coast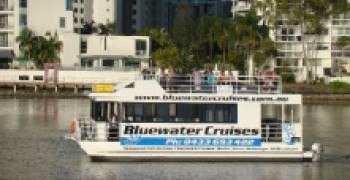 Bluewater Party Cruise & Boat Charter Gold Coast offer the biggest range of cruises and boat charter packages at very affordable prices.
Accommodating up to 50 guests the Paradise 1 is well known on Gold Coast waters for its comfort and versatility. The skipper and crew are famous for their hospitality and their exceptional customer service.
With prices starting at just $10 per person Bluewater Party Cruise & Boat Charter Gold Coast have a cruise to fit everyone's budget including:
Whatever the occasion, celebrating on the beautiful Gold Coast waterways aboard the Paradise 1 is guaranteed to make it even more special. Birthdays, Christenings, engagements,  social and sporting groups, a Bluewater Party Cruise will help make it spectacular.
Come on board the Paradise 1 and join us for a 90 minute trip taking in the splendor of the Gold Coast. Great Aussie food, fresh air, the sun and sea, what else could you ask for.
The beauty of the Gold Coast at sunset seen from the top deck of the Paradise 1 is something everyone should experience at least once in their lives.
Booking are now being taken for this Christmas. Cruising Christmas Parties aboard the Paradise 1 are very well known throughout the Gold Coast and this is your chance to book your Christmas party right now. Office, work, private or corporate we cater for everyone. And yes, it is BYO.
The Paradise 1 has hosted some of the BEST Hens parties on record. Our range of Hens Night packages ensures that we can provide everything from "mild" to "wild".
We know what boys like so check our Bucks Party Cruise packages.
The message here is simple. Bluewater Party Cruise & Boat Charter Gold Coast are dedicated to providing the best service available at very affordable prices. For information and bookings call us on (0433) 693 422 or use our online contact form.
Party Cruise, Boat Charter, River Cruise, Canal Cruises, Lunch Cruises, Hens Party, Bucks Night, Sunset Cruises, Christmas Parties, Charter Boat Gold Coast