Digital Video Jukebox + Karaoke

Hits4Hire Jukebox & Karaoke Hire Melbourne have the highest quality digital Jukeboxes for Hire featuring huge 19 inch touch screens and state-of-the-art sound systems.
Pre-Loaded with over 7,000 top hits as well as the top 600 Karaoke songs these digital Jukeboxes leave all the others behind. The 19 inch touch screens are virtually idiot proof and can be operated just about anyone.
A party is not a party without music and if the enjoyment of your guests is important then you should have a broad range of music for them to enjoy. 7,000+ of the best tracks ever right up to current chart toppers pretty much guarantees that there is something for everyone. Add to that a couple of microphones and 600 Karaoke favourites and you have a PARTY.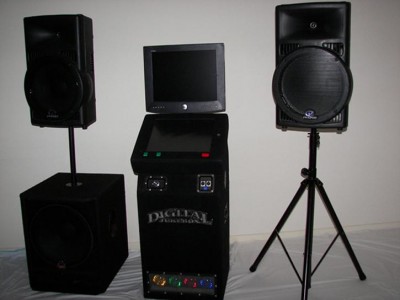 As part of our service we will deliver and set up the Jukebox at your home or party venue and pick it up the next day. It just doesn't get any easier than that. Over 12 years in the Jukebox Hire business in Melbourne has taught us that not only do our customers expect superior sound and equipment, they also demand superior service.
There is also a Light Show option available which consists of an awesome 4 light chaser system.
We also have available a Portable Jukebox with Karaoke capability (see photo below) which will easily fit in the boot of your car. This model features the same play list as our Video Jukebox.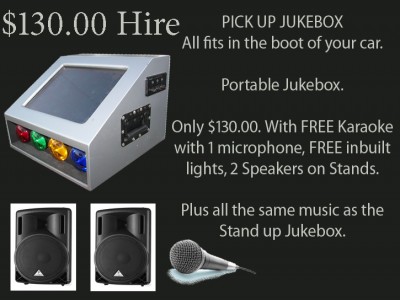 There are many companies in Melbourne which hire Jukeboxes but only a handful have the level of equipment and service that you will find at Hits4Hire. Our prices are very competitive and in many cases cheaper than some of our competitors who offer an inferior product and little or no service. Don't risk ruining your party with a dud Jukebox. Contact us on (0421) 139 729 and get the very best every single time.