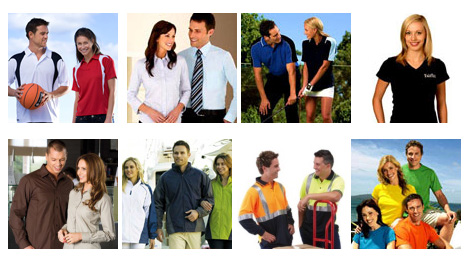 Embroidery, Screen Printing & Corporate Clothing
Corporate & Promotional Clothing, Headwear, Promotional Bags, Promotional Items, Embroided or Screen Printed Towels
Sydney Showroom 1300 769 689. Melbourne Showroom (03) 9855 1108

Monograma Embroidery, Screen Printing & Corporate Clothing is an Australian owned and operated business with a 23 year history of supplying Australian businesses with a huge range of custom made clothing, clothing accessories and promotional items.
With showrooms located in Sydney and Melbourne Monograma Embroidery, Screen Printing & Corporate Clothing are well known throughout the whole country for their impeccable quality, customer service, attention to detail and competitive pricing.
With products sourced from some of Australia's most trusted brands and in-house embroidery and screen printing facilities Monograma are able to offer literally thousands of individual products in all colours, sizes and patterns with your business / corporate logo embroidered or screen printed exactly the way you want it.
Whether you are outfitting your staff / management, a local sports team, promotional staff or looking for fun and useful promotional items as giveaways or prizes, Monograma Embroidery, Screen Printing & Corporate Clothing are sure to have the right clothing or promotional items for you.
Product Range Includes:
Corporate & Promotional Clothing
Uniforms, Polo Shirts, T-Shirts, Business Shirts, Reflective Safety Clothing, Overalls, Singlets, Hoodies, Jackets, Flying Jackets, Sports Uniforms, Pants, Skirts, Pola Fleece and much more.
Headwear
Caps, Baseball Caps, Sun Hats, Head Bands, Sports Hats, Cricket Hats.
Bags
Promotional Bags in Business, Corporate or Team Colours.
Promotional Items
Toys, Gifts, Business Accessories, Lanyards, IT Products, Pens, Flashlights, Desk Accessories, Compendiums, Household Items, Watches, Stress Toys, Keyrings, Travel Mugs, Eco Products, First Aid Kits, Cooler Bags, Beach Tents and much much more.
Embroidered / Screen Printed Towels
Beach Towels, Golf Towels, Bath Towels, Monogrammed Linen.
Services
Embroidery, Screen Printing, Laser Engraving, Pad Printing, Embossing, Digital Transfer Printing, Thermal Vinyl Printing, Dye Sublimation.
Over the years Monograma Embroidery, Screen Printing & Corporate Clothing have developed a substantial Client List including Australian Multi-National Corporations and one man businesses alike. Their commitment to service, price and quality does not waver with the size of the client. Each and every Monograma customer is treated with the utmost respect and provided with the very best products available.
Regardless of the size of your business we welcome you to contact Monograma for a quote on your Embroidery, Screen Printing or Corporate Clothing requirements.
Embroidery, Screen Printing & Corporate Clothing