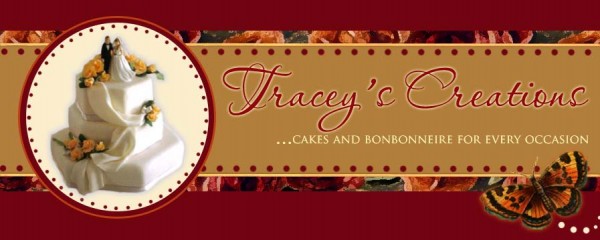 Adelaide Cakes & Bonbonneire
Wedding, Engagement, Children's, Birthday, Christening & Christmas Cakes Adelaide
Tracey's Creations Adelaide Cakes & Bonbonneire have been baking delicious cake creations for all sorts of special occasions since 1990. Using only the freshest local ingredients Tracy will custom make the cake of your choice for whatever your special occasion may be.
Cakes Include:
Wedding Cakes
Engagement
Birthday
Children's
Christening
Christmas
Cakes have always been a traditional part of every celebration. Tracey's Creations Adelaide Cakes & Bonbonniere have taken the traditional cake to a whole new level. First and foremost there's the taste. Tracy's Creations are simply delicious. Even her gluten free cakes for Coeliacs taste absolutely scrumptious.
Then there is the one on one consultation with Tracey so that you may tell her exactly what you want, the colours, flavours, the number of people the cake will serve and of course any special inclusions you require.
If the occasion is a Wedding or a Christening Tracey has a range of Bonbonneire & Accessories for you to choose from as well.
The Testimonials on Tracey's website have two basic but very important things in common. The words "Thank You" and "Yummy", need we say more?
For Prices, Orders & all Enquiries contact Tracey on (0415) 990 600.