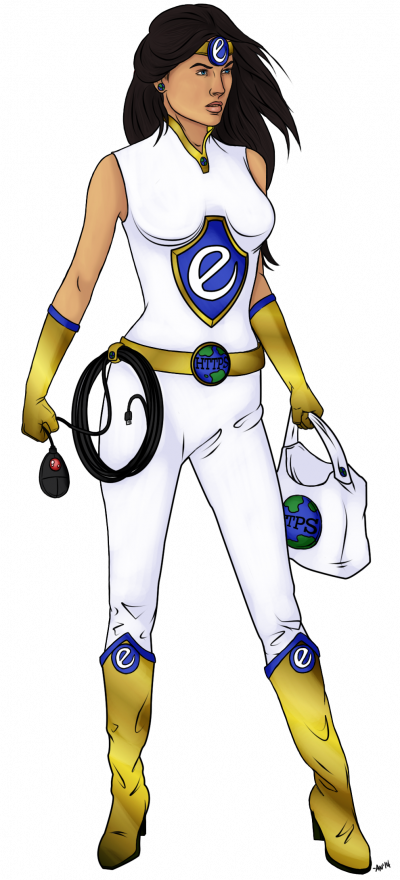 A Look @ Custom Online Shop Design
With our very own online super hero E-Commerce Girl
Over the past decade the internet has become an integral part of our day to day lives. One of the biggest impacts we have seen is in the online shopping space and the growing popularity of online stores selling virtually anything you can imagine. But as with any marketplace the more shops there are selling the same or similar products the higher the competition is to get noticed and make the sale. Even so the number of E-Commerce Website Online Shops competing online is increasing every day. Because of this, an online store which is designed to display well on the major search engines (Google, Yahoo and Bing) by using clever search engine optimization techniques gains an advantage over the competition which can make that store break away and dominate the online sales of their goods or services with their Online Shop.  But to gain such an advantage one must either have a thorough knowledge of search engine optimisation and online marketing or be the luckiest online merchant on the internet.
What Is Custom Online Shop Design, and What Do They Do?
Custom Online Shop Design is a company which creates attractive, high performance, highly optimised E-Commerce Online Stores for small businesses and individuals with the option of leasing instead of buying. A professionally designed and built E-Commerce website costs several thousand dollars if it's built properly and is optimized to Google Webmaster Tools Best Practice standard.
The problem for many small businesses and hard working individuals is that they don't always have access to 10, 15 or 20 thousand dollars to get a proper online store built and successfully launched. Nor are they always in a position to approach their bank to lend them the money at a reasonable interest rate.
That's where we come in. No loans, no interest, no mortgages, no bill of sale over your first born child.

YOU TELL US WHAT YOU WANT TO SELL
& WE WILL DESIGN and BUILD YOU AN ONLINE SHOP
BUT!!!!!!
DON"T BUY IT!
LEASE IT for just $48 PER WEEK
And YES you may buy it out at a pre agreed price whenever you want.
If that isn't the BEST E-Commerce Online Store deal in the world then please contact us and let us know.
On the other hand IF you are serious about selling your goods and / or services online just click on the mouse held by our very own Super Hero, E-Commerce Girl, above to visit our website and check out some examples of recent e-commerce websites we have built as well as our terms and conditions, inclusions, contact details etc.
OR call us personally at our US, Australian or UK offices during normal business hours. Our contact details are on our website.