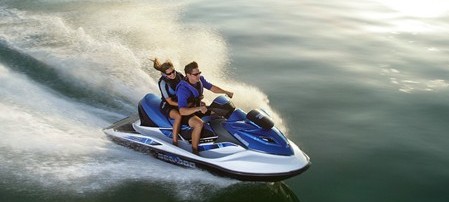 Jet Ski Hire & Water Sports Gold Coast
1500cc Sea Doo Jet Skis for Hire on a 1km Course

Shanes Water Sports Jet Ski Hire & Water Sports Gold Coast has become famous to locals, interstate and international visitors for their high powered Jet Skis and their fantastic 1 km Jetski Circuit.
You don't need a Jetski license or experience to enjoy one of the best Water Sports in the world. All you need is a sense of adventure and the "need for speed". Our highly experienced instructors will take you through a detailed operations and safety briefing and then you get aboard our 1500cc Sea Doo Jet Ski and away you go.
Or if you prefer a Guided Tour we can show you the Gold Coast and all its magnificent scenery whilst riding on the best viewing platform of all, a Jet Ski.
Our Jet Skis can easily take a rider and passenger, so don't forget to bring the kids. Full safety equipment is worn at all times and the Sea Doo is rated in the top 3 Jet Skis in the world.
For the experienced and more adventurous riders our jetskis are capable of reaching speeds over 100kph. If you are a beginner and have never ridden a jetski before you will find it is one of the easiest water craft to learn on.
Water Sports totally rule in Qld and Shanes Water Sports Jet Ski Hire & Water Sports Gold Coast has been responsible for introducing 1000's of new devotees every year. The thrill of powering 1500cc's of marine muscle over the water is infectious and with the Gold Coast shoreline as a backdrop it simply doesn't get any better.
Fast or slow, a Jet Ski provides a bundle of fun on the water and our packages include half and one hour time limits at very affordable prices.
We are located at Tuesley Park opposite the corner of the Gold Coast Hwy and North Street Southport and bookings may be made online or by contacting us on (0438) 915 222.